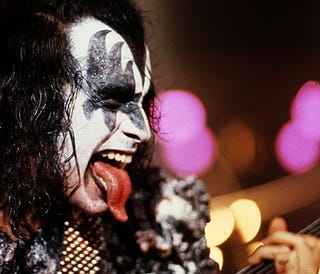 Yes, they call him Dr. Love, but he didn't want to meet this ESPN makeup artist, Victoria Jackson, in the Ladies Room. It's Hotter Than Hell, in there. The Firehouse, though? That's fine.
Jackson thought she had Nothin' To Lose by filing suit against the God of Thunder. What a Parasite lady. She's gonna be a Hard Luck Woman until she finds her man. She is. Simmons has decided to Shout It Out Loud against these allegations (he Loves It Loud) even though anytime is technically Kissin' Time in the UUUUUU-S-A. But Simmons is all, like, See You In Your Dreams:
Simmons has a simple response — he was in costume the entire time — which is like "a suit of armor, particularly around his groin area, making it impossible for Simmons to have done
ESPN, a place where many of its employees have been caught Makin' Love, had this to say:
"ESPN is not a party to this suit nor are any of our employees. As a result, it wouldn't be our place to comment on this."
I don't know. It's worth a Deuce.