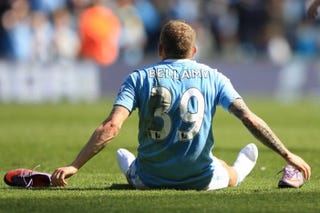 There used to be a time when The Spoiler, along with the rest of the planet, hated Craig Bellamy with a seething, unhealthy passion.
But after this majestically wise display last season, we've since come round to the idea he's a bit of a [n anti-] hero.
So naturally this morning we're slightly outraged to hear, after spending last season picking up the slack for Man City's overrated squillion pound flops, Bellers has been unceremoniously booted from the City of Manchester stadium and told not to come back.
According to The Guardian, the striker has returned to Wales after being barred from training today, having already been made to train with the ressies on Friday.
It appears Bellamy's reaction to not being included in City's 25-man squad this season was the last straw for gaffer Roberto Mancini, who has told top brass he wants the 31-year-old to disappear, perhaps not relishing the danger of a hissy-fit supernova now Mario Balotelli has rocked up to Eastlands.
A close ally of former City boss Mark Hughes, Bellamy's relationship with Mancini has been strained from day one. The scarf-loving Italian understandably found it 'disrespectful and unprofessional' when Craig walked off the pitch and high-fived 'Arry 'Ednknapp after that 4th place decider towards the end of last season.
That incident followed on from one earlier on in the season, when the arrogance-powered striker allegedly directed abuse at Mancini in the tunnel subsequent to this handbags set-to with David Moyes. Hilariously, like a schoolboy at morning assembly, Craig was never fingered for being the culprit because it was too noisy to be sure.
Context-tastic. Anyway, it appears City's loss could be (Cardiff) City's gain, with rumours going from 'soft-murmur' to 'deafening bellow' over a shock loan deal to Bellers' beloved Championship side.
Are you with us in missing Craig, should he leave top-flight footy? Or are you against us? (In which case we've got our golf clubs ready. Boyo.)
This post, written by Richard Gilzene, is republished with permission from The Spoiler. Go there often if you like soccer stuff.