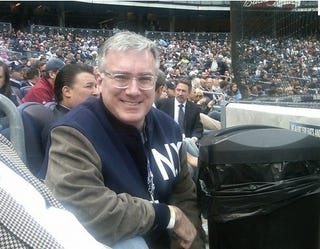 No, not Keith Olbermann, silly. Me. A.J. Daulerio. Yes, one super-lucky reader who makes an extra special comment on Facebook will get to ditch work and spend a day at Yankee Stadium watching America's most reviled franchise.
What do you have to do? Go over to the Deadspin Facebook page and comment on the "Thursday's Yankee Game with A.J." thread. Oh, you wanted to say something clever down below? Yeah, you can't. I turned off the comments. Because you won't win any prizes by wasting your silly dick jokes/nonsensical yelling/smart-ass insults/bitchiness down there. No, you must go over to the Deadspin Facebook page. That way you have the best opportunity for us to spend the day together and become lifelong friends. These tickets are good, too. We might even share a hot dog with Keith Olbermann. But they're not wheelchair accessible, so those of you unable to walk upright at this time for whatever reason shouldn't enter. We don't need to make this anymore awkward than it already will be.
Ready? Unleash hell, goblins.