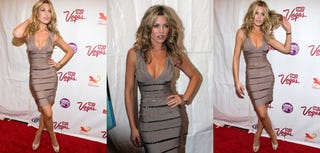 Those who enjoyed yesterday's particularly good looking list of Women Scorned might have noticed that around 33.3 percent of them still managed to forge ahead with their relationships in spite of the various allegations regarding French underpants models and saggy 93-year-old prostitutes.
Well, you can nudge that percentage all the way up to the 50 percent mark now, sister, because, according to today's Mirror, Abbey Clancy has decided to give Peter Crouch another go at making her the happiest girl alive.
Word has it that Crouchie—who presumably once worked part-time on a ghost train—has been granted access back into the shared bed, having reportedly been sleeping "in another part of the house". By which they surely mean "on a long dining room table".
When questioned about what kind of percentage Abbey would invest regarding the whole "forgive and forget" thing, one of Clancy's "friends" confirmed:
"Abbey is still very hurt by the accusations."

"Although she is prepared to forgive, she won't ever forget."
Ooh, look at that—50 percent again!
Here's Abbey talking out of sync about something or other:

This post, written by Josh Burt, is republished with permission from The Spoiler. Go there often if you like soccer stuff.