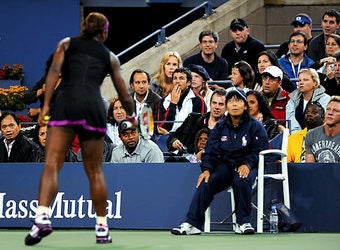 Because no one reads the newspaper, and SportsCenter's anchors are too perky for this early in the morning, Deadspin combs the best of the broadsheets and internets to bring you everything you need to know to start your day.
• Serena Williams is fucking out, a lineswoman's feeling of personal security is fucking in. [US Open]
• Roger Clemens' reaction to getting indicted? Make pre-obligated call to a Boston radio station on charity's behalf. Hem. Haw. [SportsRadioInterviews.com]
• Former Alabama guard Mikhai Torrance, undrafted but signed with a pro team in Israel, collapses at the IMG Basketball Academy in Florida. "He is still alive and he is in our intensive care center at the hospital," a Sarasota Memorial Hospital spokesperson said. Torrance has a heart condition. So did Hank Gathers. [Bradenton.com]
• The NBA exacts its revenge on Delonte West for messing with teammate's emotions. Fine, the 10-game suspension's for "carrying two loaded handguns, a loaded shotgun and an 8 1/2-inch Bowie knife while speeding on a three-wheel motorcycle." [AP] But this is America. If a man wants to ride a three-wheel motorcycle with a loaded arsenal, man should be allowed to ride a three-wheel motorcycle with a loaded arsenal. It's when he starts diddling mammies that punishment should be exacted. I cede the rumor-mongering pulpit to ...
• Laces out, Joe Mauer.
• Former Major League Baseball commissioner Fay Vincent ripped current commissioner Bud Selig for attempting to "please everyone" by allowing the Cincinnati Reds to honor Pete Rose on the 25th anniversary of Rose's setting the all-time hit record. [NY Post]
• The "Antonio Cromartie's Legion of Three-Year-Old Children" story would not go softly into the trouble-remembering-all-children's-names night. This is because Mrs. Antonio Cromartie done got pissed off that someone named Necole Bitchie done took critical notice of Mr. and Mrs. Antonio Cromartie's first dance as husband and wife. I wish there was a photo of the children's table, but alas, there isn't. Still, I thank Necole Bitchie for enabling me to both watch, and share, said dance with all y'all.
• Side note: Shawn Kemp Jr., himself a one-time legion of three-year-olds member, is deemed ineligible. To play at Auburn [Cleveland.com].
• Now, in soccer-riot news...

(H/T Tomuban)
• And, finally, from the "Hickey's Biased" coverage files … Phillies win! That's about it.
****
Saturday. Say what you will about Martyred Fattie Friday, but I agree with Whitlock's take on that Jared lesbian. Sub deez nuts.