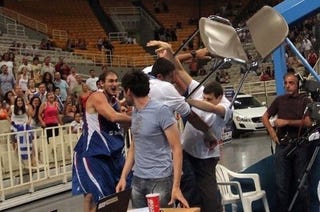 Following yesterday's basketbrawl at the Acropolis Tournament, Athens police arrested Nenad Krstic for his role in the fight since his chair hit Yannis Bouroussis, leaving Bouroussis with a "bloody wound on the side of his head." Plate-breakingly bizarre updates inside.
The brawl couldn't have come at a worse time for the two teams. The world championships are next week, and both teams are scheduled to appear—and play again. However, if—and this is a real investigative body—"Greece's sports violence squad" is looking into the brawl, interviewing participants and witnesses, and so on, both sides are going to be adversely affected. Moreover, FIBA will be conducting an investigation of its own and disciplining any players it deems responsible for the brawl. Basically, it looks as if the Greek and Serbian squads will be gutted before the tournament either by FIBA or the Greek sports kops.
But how will this affect the U.S. squad's chances in the tournament? Aside from making the team's path to victory that much easier, the event gave Coach K a chance to do what Coach K does best: teach young men the right way to behave. After showing his team the brawl as an example of what not to do, Krzyzewski said, "We just told our guys that if something happens to walk away and not to pull anyone from another team, to just pull your teammate."
There you have it. Sage wisdom from one of the most acclaimed coaches in history: "Guys, try not to act like fucking idiots if things get heated while we're playing a country with which we have a long history of contentious relations, OK?"

Serbia center released after basketball brawl [AP]