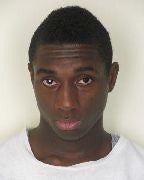 Julious Javone Threatts really, really wanted to play football for the Town 'N Country Packers Pop Warner team in Tampa.
So, he changed his name to Chad Jordan and shaved seven years off his birthday so people would think he was really 14.
"He really acted like a kid," coach Ray McCloud said. "My son is 13, and my son was hanging out with him, and (Threatts) acted more immature than (my son)."

It's unclear how long Threatts pretended to be a teenager or why he did it.

Steve Levinson, president of the football league, said Threatts played ... last year, trained again during the spring and then joined the Tampa Bay league at the beginning of this season. [He] turned in all the necessary registration paperwork, including a copy of his birth certificate, which officials now realize must have been fake.

"He duped everyone," Levinson said. [St. Petersburg Times]
Oh, here's video of J.J. Threatts talking about God. He's in jail now. It's his sixth arrest. His first came when he was really 14.