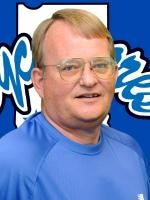 Dennis Raetz is described as "Indiana State University's most successful football coach." Rarefied air, for sure, but Raetz also went batshit loco after Terre Haute North converted a two-pointer to beat Terre Haute South. Fist to pressbox-glass style, yo.
Police Chief Bill Mercier said Dennis Raetz, father of South Head coach Mark Raetz hit the glass, shattering the window and showering people like Lauren Foulke below with bits of glass.

"I got hit in the nose with something," said Foulke. "I didn't even really see what it was. Then I realized that I was bleeding a lot and that I had blood all over my hands."

Blood splatter still remains where emergency personnel look at the injuries. Vigo County Schools Superintendent Danny Tanoos said paramedics treated about 8 people at the stadium.

Raetz told News 10 over the phone that he feels badly about what happened and thought it was plexiglass. He had to get stitches in his arm at the hospital. [WTHI.com]
Terre Haute South, represent.
****
Thank you for your continued support of Deadspin. And, for spending another weekend with me. The regs are back in the a.m. Be kind to them. I'll be watching.