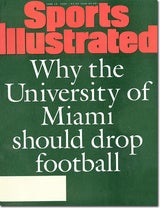 Nevin Shapiro—an alleged Ponzi schemer and ex-University of Miami booster—is threatening to publish a tell-all book about the program. It'd be like that movie The Program, but with less James Caan and more fiduciary malfeasance. Or something along those lines.
A Luther Campbell With More Visible Chest-Hair (probably), Shapiro claims that the university has committed major violations with more than 100 players over the last 10 years during the school's meteoric rise back into the college football spotlight. How does he know? He was the one paying the players, allegedly. The alleged calls are coming from inside the house. Allegedly.
Shapiro is currently in a New Jersey prison on money laundering and securities fraud charges stemming from his alleged scheme, and would use the book's profits to pay back some of the people he's swindled. But what's the real reason behind his sudden growing a conscience? None of his friends are his friends anymore:
Shapiro told the Herald he feels abandoned by many ex-Hurricanes he befriended, including Carolina Panthers linebacker Jon Beason, New York Giants safety Antrel Rolle and Chicago Bears wide receiver Devin Hester. Shapiro also told the Herald he was close with former Miami recruiting director Clint Hurtt, who now is at Louisville.

"Once the players became pros, they turned their back on me. It made me feel like a used friend," Shapiro was quoted as saying.
Awww, poor fella. He used a bunch of teenagers in the name of a university he didn't even attend and is shocked, shocked that they used him too. Cruel fate strikes again.
Ex-booster alleges major violations by Miami Hurricanes football program [Sporting News]