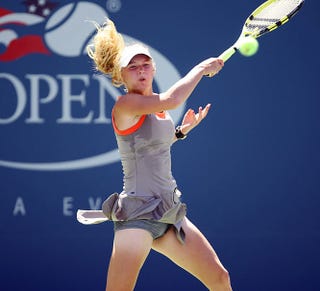 Deadspin chief tennis correspondent and resident deucebag Dylan Stableford will be covering the U.S. Open throughout the fortnight. Here are some key questions heading into the tennis year's last — and best — Grand Slam.
Is Caroline Wozniacki "ready to get on top"?
The Yale football team certainly thinks so. Wozniacki, who reached the 2009 final in her billowing Stella McCartney dress at the tender age of 19, comes into the Open having won back-to-back titles in Montreal and New Haven, where she has a career record of 13-0 and is treated like Ivy League royalty. And while Wozniacki, who has yet to win a Grand Slam, doesn't have a huge weapon, she's one of those players you hate playing against because she gets to every ball. ("Wozniacki has a little bit of Michael Chang in her," ESPN's Cliff Drysdale noted last week.) On CBS's Open preview show, Wozniacki told Dick Enberg she is "ready to get on top." Oh my!
Will Sasha Vujacic be the Brooklyn Decker to Sharapova's Roddick?
Vujacic and Sharapova have been dating for a while, but are just now beginning to go public with their courtship — like last week at the Nick Bollettieri Tennis Academy in Bradenton, Florida, where Sasha trained alongside the baseline banger. "While she was on the tennis court under the steaming midday sun, he was in the gymnasium 50 feet away, sweating through his own shirt, too," FanHouse reported. "They were doing completely different workouts, on different courts, but they were pushing each other. [...] 'She's working hard. I'm working hard. It's good together.'"
But Sharapova doesn't need a Lakers benchwarmer for motivation. (Mentally tough? Sharapova survived Chernobyl for god's sake.) She's had a solid summer hardcourt season, is hitting a clean, heavy ball, and the 2006 champion should be a favorite in a wide-open women's draw. She just has to remember what coach Michael Joyce tells her every time he's summoned on court during a changeover: "Eat a banana."
More importantly, what is she going to wear?
This. (Not as eye-catching as this, but it'll do.)
Can Kim Clijsters fulfill Lil Wayne's prophecy?
Late last week, currently incarcerated rapper and unlikely tennis fan Lil Wayne supposedly submitted a handwritten note to Sports Illustrated in which he handicapped the U.S. Open. And Weezy picked Clijsters to defend her 2009 title, when she became the first mom since Evonne Goolagong to win a Slam — which means Clijsters will have to carry the additional burden of high expectations not only from moms but from the entire hip-hop community.
Will heat be a factor?
Yes. With record temperatures forecast in New York for the first week, Patrick McEnroe says "fitness will be tested." That's good news for players like Sharapova, Wozniacki, Nadal and Mardy Fish, and not so good for, say, Marion Bartoli. But it also means we'll be subject to the egregious use of trainers, injury timeouts, and assorted rubdowns early in the tournament, I'm afraid.
Will Nadal finally win in New York?
He's the No. 1 seed and top-ranked player in the world, but this is still Roger Federer's tournament to lose. Nadal has never won a title on the blue hardcourts of Queens, preferring the dirt and grass of Europe. "It's questionable how much he even likes New York," John Koblin noted in the Observer. "Instead of having dinners with Robert De Niro or making trips to Le Bernardin, Nadal has been known to take his days off in New York and quietly head to the ESPN Zone to nosh on some chicken fingers while watching the European soccer league." Still, this could be the Majorcan matador's year. After winning in Paris and London, Nadal scaled back his schedule to keep his perennially ailing knees fresh. And Federer's loss to a "languid, loose-limbed" Juan Martin del Potro in last year's final showed the rest of the galaxy Darth Federer could, in fact, be slayed. Let's just hope that if Nadal and Federer do finally meet in this year's final, they aren't jointly afflicted with an uncontrollable case of the giggles.
Was Federer's trick shot real or fake?
I can't believe we're still having this conversation. Fake.
Can an American man win this tournament?
It hasn't happened since Andy Roddick in 2003. For a spell earlier this summer, there were no American men in the Top 10 — the first time ever. "There is a great level of concern about the future of American tennis," John McEnroe said recently, a not-so-well-disguised shot at his brother Patrick, the Davis Cup captain and USTA executive. "The alarm bells have been going off for some time, and they're getting noisier."
Following a bout with mono, Roddick has since returned to No. 9, and there are three others (Sam Querrey, Mardy Fish, John Isner) in the Top 25 — the first time that's happened since 2006. Of those, Fish — who's looking downright Brian Stelter-like after dropping 30 pounds — may have the best shot. Fish narrowly lost to Federer in Cincinnati two weeks ago. He's got a big serve, and covers the court like Agassi on meth. Plus, he's carb counting.
How many women can John McEnroe insult in the next two weeks?
"There should be less events for women," McEnroe said during a conference call last week. And yes, he was serious. "You need an actual meltdown on court or someone to quit the game altogether before they realize you need to change the schedule." That he said it while his CBS colleague Mary Carillo was on the call tells you all you need to know about his job security — the network and sport need the guy. (Perhaps we can get Mac to review Eat Pray Love II for Jezebel.)
Can little Asian lineswomen breath easier with Serena out?
Certainly. Shino Tsurubuchi, the line judge down whose throat Serena Williams threatened to shove a ball during the semis in 2009, is back. Tsurubuchi won't have to face calling a foot fault on Williams this year — and for that she apparently has soccer hooligans to thank. According to Carillo, the foot injury that forced Serena to withdraw from this year's tourney was "caused by a beer bottle falling on her foot at a bar in Munich" when "some patrons became rowdy during a World Cup match happening at the time." She hasn't played a match since.
What about that girl with "believe" printed on her sneakers?
Scrappy Melanie Oudin, whose CBS-sanctioned Cinderella run in 2009 ended in the quarterfinals, says her shoes will be emblazoned with the word "courage" this year — inevitably followed in subsequent years by "flameout," "lost childhood," and "Hey, where did my endorsement deal go?"
What happened to Ana Ivanovic?
The sinewy 22-year-old Serb, once poised to take the "Hottest Women's Tennis Player Who Can Actually Play" throne away from Sharapova, has had a brutal, injury-plagued couple of years. (Even The Atlantic tried to pinpoint how exactly Ana's lost her way. Conclusion: They have no idea.) And just when Ivanovic seemed to be getting her confidence back on and off the court (she told off a tournament director in Montreal for not granting her a wild card) she left the Cincinnati tune-up in tears with a foot injury. She's recovered enough to play at the Open, but don't expect much.
Who will have the hottest girlfriend box at this year's Open?
For the past two years, that all-important honor has gone to Roddick, at least according to my unofficial poll of Deadspin readers. And Brooklyn Decker will be back in Roddick's box, of course, but there are some other up-and-comers for him to contend with: Fish, whose wife, Stacey Gardner, was a "briefcase model" on Deal or No Deal; Andy Murray, who reunited with Kim Sears a year after they split over his reported video game addiction; and Novak Djokovic, whose gorgeous girlfriend, Jelena Ristic, is omnipresent at his matches. Perhaps we should throw Vujacic in the "girlfriend" category as well.
Will Gael Monfils shoot a cameo appearance on Sesame Street while he's here?
Seriously, dude looks like a Muppet.
Will the U.S. Open get its own Isner-Mahut marathon moment?
That's easy: no. With the Open's final set tiebreaks, there's no chance of New Yorkers getting a 70-68-in-the-fifth epic like the one that mesmerized the sports-loving planet at Wimbledon earlier this year. What's more, John Isner, the Randy Johnson-sized Georgian who outlasted Frenchman Nicolas Mahut in that three-day, 11-hour-five-minute classic, is hurt but vowing to play. And Mahut — who says his body still hasn't recovered from the Isner match — lost in the Open qualifying. I suppose it's a good thing; a match like that in New York would likely give Dick Enberg a hernia.
Will James Blake just do us a favor and retire already?
I love the guy and more or less grew up with him. But it's time.
Who should we follow on Twitter during the Open?
Well me, for starters: @Stableford. The Open's official Twitter feed (@usopen). Players with reliable Twitter feeds: Roddick (@andyroddick), Wozniacki (@CaroWozniacki), Vika Azarenka (@vika7). Analysts: Brad Gilbert (@bgtennisnation), Patrick McEnroe (@PatrickMcEnroe), Justin Gimelstob (@justingimelstob). Assorted tennis media: John Koblin (@koblin), Tom Perrotta (@TomPerrotta), Jon Wertheim (@jon_wertheim), Pete Bodo (@ptbodo), Matt Cronin (@TennisReporters), Bobby Chintapalli (@bobbychin), @Sharapovonovic, @TheDoubleBagel, @FortyDeuceTwits, @TSFtennis, @TennisConnected.
And, of course, Mrs. Roddick: @BrooklynDDecker.