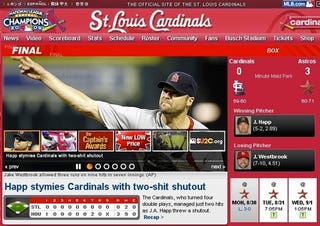 Because no one reads the newspaper, and SportsCenter's anchors are too perky for this early in the morning, Deadspin combs the best of the broadsheets and internets to bring you everything you need to know to start your day.
•If the Rays win and no one's around to see it, does it count in the standings? All of 11,968 showed up to watch the Rays beat the Blue Jays, but don't worry. We hear they'll be giving away playoff tickets to school and camp groups, so they'll probably sell out.
•The Yankees also won, setting some sort of odd record. For eight straight days, New York and Tampa Bay have been tied for first — the longest that's happened this late in the season. I'm guessing they're not counting 1994, when the Yankees and Expos remained tied from August, until April of the following year.
•The reliably catty Awful Announcing blog is back, and they're amused at Vin Scully getting mad at Angelenos for being Angelenos: in this case, tossing a beach ball on the field during Hiroki Kuroda's no-hit bid.
•The Nevada Gaming Control Board is looking into Marcus Jordan's claims of dropping $35,000 at a Vegas casino nightclub, even though he's only 19. At this rate. David Stern's going to force him to "retire" and play college baseball.
•One tabloid rag says that Tiger Woods just moved into a downtown NY bachelor pad. As long as he's in the neighborhood, he might as well swing by the Deadspin offices tomorrow for Bagel Wednesday.
(Thanks to Mike, Kevin, Ethan, ScottieMoe, and Matt at JoeSportsFan for the screengrabs. We admit we thought it was photoshopped until the third or fourth person sent it in.)
•••••
Good morning. Fancy seeing you here.