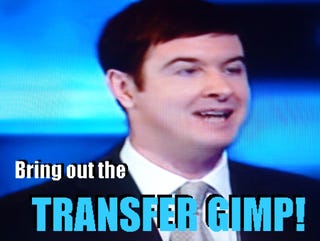 Sigh. Right, you know the drill. Expect desolate shots of training ground gates, some unlucky chump standing in the pissing rain bringing you literally no news, and congregations of unemployed celebrating transfer coups.
This is the day that the Fourth Estate shambles up to your house with shit-stained trousers round its ankles and vomit on its tie.
This is transfer deadline day.
So far this morning: Ghanaian World Cup star and Udinese striker Asamoah Gyan is (rather belatedly, we reckon) making his way to the Premier League after wrapping up a £12m deal with Sunderland.
Spurs are teeing up another bid for West Ham's Scott Parker, having just lost another one of their targets, Klaas-Jan Huntelaar to Schalke; while Emmanuel Adebayor and Shay Given have delighted their bank managers by deciding to stay at Man City.
Arsenal's pursuit of Mark Schwarzer is going down to the wire, as they've reportedly put in an extremely sensible £4m bid for the 37-YEAR-OLD.
Elsewhere, Tony Pulis is furiously bashing a-deal-a-minute down at Stoke, with Portsmouth's Marc Wilson already spotted at the Britannia, and moves for Eidur Gudjohnsen and Jermaine Jenas apparently still in the pipeline.
Top transfer shockka of note: Christian-Bale-in-'The-Machinist' impersonator Aliaksandr Hleb could be rocking up to Birmingham for £5m.
Sky Sports News update:
7hrs 28min 33sec until deadline "Scott Parker did spend, I counted it, ten minutes, sitting his car, on his telephone, before going training with the West Ham squad."
10:44 am, CONFIRMED: Marcus Bent, loan from Birmingham to Wolves until January. Deadline day starts with a bang!
11.39 am: Eidur Gudjohnsen has hopped on a flight over to thrash out terms with Stoke, although Fulham are lurking in the shadows ready to hijack the deal. SSN are claiming Tottenham have made an enquiry about Steven Pienaar, whose contract talks at Everton have stalled. Meanwhile, Fenerbache and AC Milan are scrapping it out over Robinho.
12.07 pm: Harry Redknapp has just told reporters: "I really don't think we're anywhere near doing any deals today. Maybe one or two loans going out. I think it'll be a quiet day." Then he made a joke about signing Lionel Messi. Good enough, Spurs fans? Thought not.
Sky Sports News update:
5hrs 51min 12sec "Sunderland are one of the football clubs up here that do look after the TV crews. Now, the catering staff aren't looking after us today because the first team squad aren't here, but Niall Quinn himself has sent out a bacon sandwich."
12.30 pm: Reports from Italy say Robinho has stepped off a plane in Milan. Tottenham have signed… goalkeeper Stipe Pletikosa on a season-loan loan from Spartak Moscow. Harry's telling fibs again.
12.56 pm: Aliaksandr Hleb has just signed a one-year loan deal with Birmingham, but more amazing than that is the fact this SSN reporter just described him as 'explosive'. Chilean winger Jean Beausejour also looks like he's on his way, from Mexican side Club America for £4m. Robinho is having a medical.
1.45 pm: Mark Schwarzer's Arsenal dream is over, Fulham confirm that he won't be leaving in this transfer window. Arsenal fans wiil be praying Le Prof has a plan B.
2.12 pm: Right, desperation is starting to kick in. Sky Sports News are claiming Ryan Babel has taken a helicopter down from Liverpool to finalise a £9m transfer to Tottenham
2.27 pm: Are West Ham considering an offer from Liverpool for Carlton Cole? We're in need of a good laugh, so let's hope so.
2.52 pm: Stoke fans are beginning to assemble outside the Britannia, in the hope of catching a glimpse of Eidur Gudjohnsen. Who is stuck in traffic. And hasn't actually signed (on loan) yet.
2.58 pm: Sky Sports News understands The Babelcopter has taken a detour across London to West Ham. Wow.
Sky Sports News update:
2hrs 50min 50sec "Scott Parker himself has told me he's staying at West Ham. I had a very brief word with him as he stopped to sign autographs outside the training ground, as he always does - nice guy by the way, Scott Parker - he didn't really want to talk, but when I said to him, 'There's a lot of talk about you Scott, are you staying at West Ham?', 'I'm sure I will be,' he said as he drove off."
3.13 pm: Paul Konchesky is walking around the corridors of Anfield, looking lost.
3.22 pm: SSN have just broadcast footage of the aforementioned Scott Parker incident, and it's hilarious. The Spoiler reckons its safe to say footballers everywhere hate the Sky news team with a passion. Apart from Georgie Thompson and the rest of the girls.
3.56 pm: Liverpool officials are in London trying to rubber-stamp a deal for Carlton Cole, along with Tottenham reps who are reportedly waiting to gazump any offers.
5.09 pm: An hour break while absolutely nothing goes on, and we're back with the news Robinho has signed for AC Milan on a permanent deal, 4 year contract
[pic via The Goon Blog]
This post, written by Richard Gilzene, is republished with permission from The Spoiler. Go there often if you like soccer stuff.