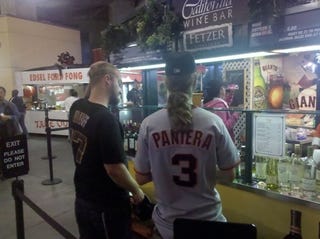 Because no one reads the newspaper, and SportsCenter's anchors are too perky for this early in the morning, Deadspin combs the best of the broadsheets and internets to bring you everything you need to know to start your day.
•In a move that comes four years too late, the Cardinals are reportedly shopping Matt Leinart. Maybe they should trade him to Dancing With The Stars for Kurt Warner.
•Ryan Howard's cup fell out of his pants last night. As I can attest, there wasn't much room for it.
•Manny Ramirez's White Sox debut was in the on-deck circle when AJ Pierzynski hit a go-ahead homer. Ramirez was called back to the dugout. Perhaps that's their plan: threaten to pinch hit him, warning their hitters ahead of him that they need to get it done before Manny strikes out to end the inning.
•Visiting Europe? Want to watch the big game? Enjoy blowjobs? Have we got just the place for you.
•Paul Bissonnette is back on Twitter, not 6 weeks after shutting it down for less-than-PC comments about Russia. So if you need your fix for hockey players obsessed with homeless people, this is the best news you'll hear all day.
•Who was that handsome man catching Mark Teixeira's home run ball last night? Not sure, but his son is Walkoff Walk proprietor Rob Iracane.
(Pic via Stephen, h/t Jovan J.)
•••••
Good morning. We'll see what we can scrape together for you today.