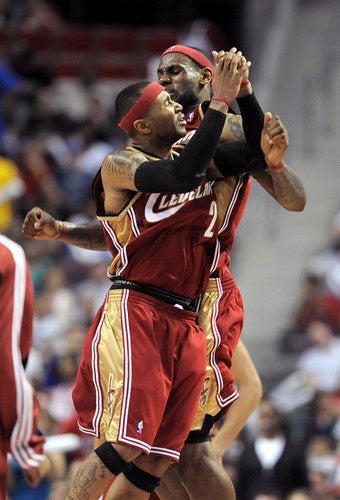 Mo Williams was very affected by LeBron James' decision to take his talents elsewhere. He didn't just lose a teammate, "a walking triple-double," he lost a friend. Thankfully, LeBron and Mo Williams are friends again after hashing it out at the airport.
Williams was delayed at Hopkins airport for four—four!—hours, but fate intervened when he had a chance encounter with LeBron. They had "a clear-the-air type of discussion...that Williams says was 'much needed.'" Has there ever been a more fortuitous delay at an airport?
When asked about why he and LeBron had reconciled, Williams responded, "He's got enough people rooting against him, he doesn't need one more."
We say nuts to that, Mo. LeBron left because he didn't think you were good enough for him. The Cavs tried to trade you—which you publicly campaigned against—because they didn't think you were good enough for LeBron. Why are you reconciling with him or the organization? Why aren't you lobbying for a trade to the Knicks? Are you so down on yourself that you think Ray Felton is better than you? Sure, you guys are all friends, but what happened to healthy competition among friends? To bragging rights? You're one of the reasons that people make really tired "No Balls Association" cracks.
The only explanation for this is that LeBron really is keeping a list of all his haters and is planning something diabolical. In which case Mo Williams might be smarter than any of us.
Former Cavs teammates clear the air [Akron Beacon Journal]