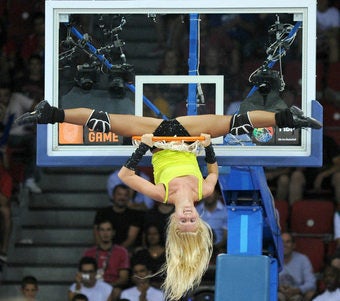 International competitions teach us a lot about cultural sensitivity. But sometimes the kumbaya stuff goes too far. Like when cheerleaders have to cover up during one of our basketball games, lest an Iranian player pop an infidel boner or something.
Wearing black leggings and white T-shirts, cheerleaders performed a chaste routine during the Iran-USA game that still wasn't modest enough for some Iranian officials, who either left the arena or turned their backs. Granted, these are not actual American cheerleaders—the different dance troupes hail from Ukraine, Russia, and Lithuania—but let the word ring forth, here and now, that an overdressed cheerleader anywhere in the world is a wronged cheerleader, and America will not stand for it.
How dare Turkey—secular Turkey—curtail international basketball fans' desire for sexy dancing on account of a few Sharia enthusiasts. If I'm going to learn how to spell Sofoklis Schortsanitis for this tournament, or cheer for Omer Asik next year on the Bulls, I sure as shit better get a chance to ogle some Eastern European women during timeouts. U-S-A! U-S-A! U-S-A!
Cheerleaders Cover Up For Iran vs United States [Reuters, via]
*****
Thank you for your continued support of Deadspin. See you tomorrow morning, gurls.