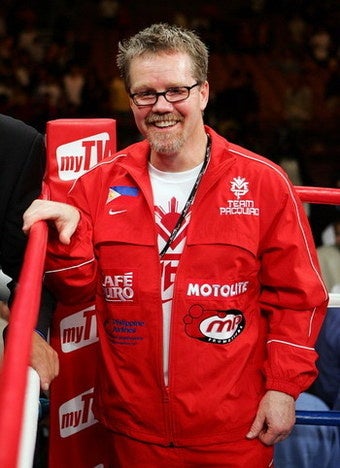 Every morning, the fine folks at Sports Radio Interviews sift through the a.m. drive-time chatter to bring you the best interviews with coaches, players, and personalities across the sports landscape. Today: boxing trainer Freddie Roach.
Freddie Roach joined Into the Night with Tony Bruno to talk about Manny Pacquiao's upcoming fight against Antonio Margarito, whether or not he will inspect Margarito's gloves, whether or not he thinks a fight between Floyd Mayweather Jr. and Manny Pacquiao will happen, and how long Pacquiao will remain fighting for.
On whether or not he was surprised Antonio Margarito was cleared:
"There were some other states out there that were willing to give him a license and so forth. Nevada really didn't turn him down. They said they would make a decision after he applies in California. I knew someone was going to take this fight because the economy is bad all over the world. Let's face it, this is gonna generate a lot of attention and a lot of money to where it goes and Dallas was smart enough to do it."
On whether or not someone will inspect Margarito's gloves:
"Of course and that will be me. If he was loaded in the (Miguel) Cotto fight I blame the Cotto camp for not doing their job. Let's face it, you have that right when you're in a world title fight. You watch him wrap, put his hands in his gloves, and make sure it's up to par. No one would get away with that with me anyway because I don't trust anyone in this sport. The thing is, even when I checked Oscar De La Hoya's wraps and then I put my hands inside his gloves, his trainer was like 'what are you doing?' I said checking my gloves. They said 'you don't trust Oscar?' I said again I'm doing my job. I don't trust anybody and I don't take anything for granted."
On why he thinks Mayweather won't fight Pacquiao:
"I think he just wants that zero on his record. As long as he's undefeated he can argue and say he's the best fighter ever, he's as good as Sugar Ray Robinson and so forth, and he can make that argument as long as he doesn't have that loss on his record. I think it's more important for him to stay undefeated than fight the best guy out there. It's a shame and I hope the fight will happen but I'm worried about that because the only thing that can get him motivated is money and they offered him 40 million dollars. If that's not enough money I don't know what is."
On whether or not Pacquiao will remain driven to fight even though he is 31 and is now a congressman in the Philippines:
"He really is driven. He trains harder now than when he first started off because he doesn't want to disappoint his countrymen, he wants to win for his country, put the Philippines on the map, and his work ethic is better now than it was when I first got him. He trains like an animal and the only thing that changed lately is his name. He's going to be congressman Manny Pacquiao, but he still knows what he does best and that's fight. And that's what he's going to be on November 13th."

This post, written by Chris Fedor, appears courtesy of Sports Radio Interviews. For the complete highlights of the interview, as well as audio, click here.