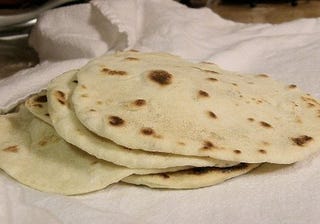 Tonight, Texas A&M-Kingsville kicks off the season at Northwest Missouri State, in a continuance of the epic D-II rivalry. (Maybe. I don't know.) One mainstay that will be absent: the traditional Tossing Of The Tortillas after Kingsville touchdowns.
For decades, it's been standard for A&M-Kingsville fans to throw tortillas on the field after their Javelinas score. But the school's putting a stop to it, for three reasons. School president Steven Tallant said it looks bad when students waste food when there are starving people out there. Additionally, it creates an injury hazard, as evidenced in this anecdote:
Chemistry professor Mauro Castro said his 5-year-old son was treated by football trainers after a hardened tortilla struck him in the nose at Javelina Stadium during a run with Porky's Pack, the children who rush the field with Porky, the Javelinas mascot.
There's nothing not hilarious in that sentence.
But you know what's not funny? Racism. And Kingsville, with a majority Hispanic student body, has caught flack recently for what some consider an insensitive gesture. But if that's so offensive, they might have to ban the throwing of rice after UCLA scores, and Wonder Bread at BYU.
A&M-Kingsville is right to ban tortilla tossing [Caller-Times]