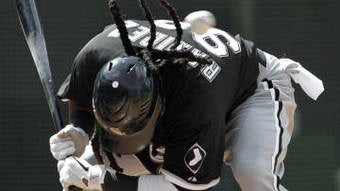 Because no one reads the newspaper, and SportsCenter's anchors are too perky for this early in the morning, Deadspin combs the best of the broadsheets and internets to bring you everything you need to know to start your day.
• During Friday night's hurricane delay, Manny Ramirez of the White Sox apologized to the Red Sox of Boston. Aw.
"I think everything was my fault," Ramirez said. "But, hey, you've got to be a real man to realize when you do wrong. Hey, it was my fault. I'm already past that stage and I'm happy with my new team." [ESPN.com]
He also admitted he apologized to Kevin Youkilis for their confrontation in the dugout during a game in June 2008, one month before he was unceremoniously traded to the Dodgers. [Boston Herald]
In the sun, they feel as one.
• A New York City columnist — let's call him Joe Smith — has had enough of Derek Jeter at the top of the Yankees lineup card. He will stop at nothing to point out that he asked Joe Girardi "whether, if Jeter's name were Joe Smith, he still would be hitting atop the lineup." Yes, responded Girardi. [New York Post]
• A St. Louis professional baseball manager — let's call him Tony LaRussa — has had enough of people saying his boys are underachievers. They're just big-boned ... and 5.5 games back in the Wild Card race with 30 left. [St. Louis Post-Dispatch]
• It's NFL Cut Day! Open thread later, perhaps? [NFL.com]
• The body of Bob Arum's son found on a "rugged Washington state mountain." Possible cause of death: 300-foot fall. [AP]
• More than 2,800 people vote in online poll about whether the Seahawks should keep wide receiver T.J. Houshmandzadeh. Which they aren't going to. [Seattle Post-Intelligencer]
• The Georgia State Panthers won their inaugural football game 41-7 over whatever Shorter University is. Then, players Nate Anthony and Olufemi Opanubi cranked coach Bill Curry in the head with a Gatorade cooler. Video here.
"The Gatorade dunking was a shot to the head, which was a very fortunate thing indeed because I have such a hard head," Curry joked afterward. "Once I realized I was okay, it felt fine. We probably need some work on that." [Atlanta Journal Constitution]
• Baltimore Raven Ed Reed is PUP, yo. Harbaugh dreams of a world where Omar Little wasn't taken out by some kid named Kenard in a Korean deli. Lewis'd love him. [Baltimore Sun]
• Deutsche Bank Championship, after 1st round, T. Woods (+1) T87. Cut looming? [PGATour.com]
• And, finally, from the "Hickey's Biased" coverage files … Phillies No. 3 starter gets a 1-0 win. [philly.com]. The Cubs aren't 20 games under .500 anymore! For now. [Yahoo Sports] Notre Dame begins their march to an inevitable BCS Championship today. [cnnsi.com] And, Elway speaks on the NFL season. He's so dreamy...

****
Hey, it's me again. Leave your number on the cabinet.