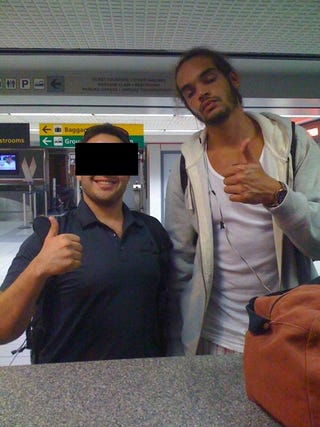 We get so many of these photos that I begin to wonder if Joakim Noah will ever enjoy an undocumented moment in public or at his local head shop. At least he seems to relish these encounters. I mean, look.
Now, some housekeeping matters: Daulerio has returned from his vision quest and seems in high spirits; thanks to all of you who expressed so much concern. He'll be doing another Jezebel guest stint on Monday. Those ladies can't get enough of him.
Also: Next week, the site is turning five. You know what that means: We'll be exiting our phallic stage and entering our latency period any day now! It also means some sort of week-long celebration of how great the site used to be before Matthews fucked it up. Get psyched.
Photo courtesy reader Mike
* * * * *
Thanks for your continued support of Deadspin.