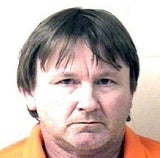 Michael Lynn Sherer had the whole world in his hands. He busted out of prison. He had a gun. And, some obligin' folk near the NASCAR track in Atlanta gladly swapped a pair of race tickets for weaponry.
But then, a damn cop saw him "walking back toward the Waffle House."
"[Sherer] kept stumbling with a date of birth, so just from our experience and training, we knew something was going on. It was pretty obvious."
Back to jail he went, saddled with charges that he murdered his uncle during his Escape Tour. Woe.
Inmate Caught Bartering For NASCAR Tickets [WSBTV.com]
Jail Escapee Wanted for Murder [CBS42.com]