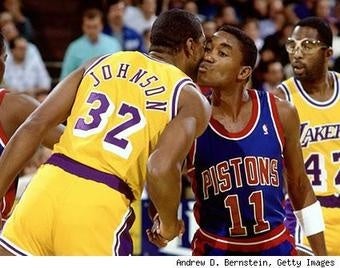 Rejected Knicks "consultant" Isiah Thomas checked out James Blake's straight-set U.S. Open loss to Novak Djokovic last night. He also took a moment to talk LeBron with a pair of reporters. Highlights:
"I think, and I honestly believe this, it would've been interesting to see if he could have [won a title with the Knicks]. The whole LeBron Knick thing would've piqued everyone's curiosity."

Thomas added Magic Johnson and Michael Jordan were wrong to condemn LeBron for joining forces with Dwyane Wade and Chris Bosh. "I strongly disagree with their comments," Thomas said. "[Magic] had a great team. They said they wouldn't have left but look who they were playing with. Those teams were stacked."
Isiah: LeBron should be with Knicks [New York Post]