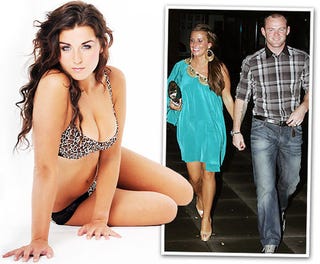 Here's a link to one in a photo/video shoot for News of the World. But she's no ordinary hooker. Not even a rugby hooker. Nope, she's one that warrants this kind of story ...
WAYNE ROONEY had a series of romps with a £1,200-a-time hooker when wife Coleen was pregnant, we can reveal today.

The England and Man United striker bedded pretty Jenny Thompson, 21, over several MONTHS.

Last night she told us: "Wayne chased me with sex texts and paid in wads of cash. He didn't seem to care he was betraying Coleen."

The Cheating England ace begged Jenny, 21, and her pretty friend to fulfil his fantasy with a sordid THREESOME.
That's their capitalization on THREESOME, by the way. Not that there's anything wrong with that.
Wayne Rooney cheats on Coleen again with 21 year old hooker [News of the World]