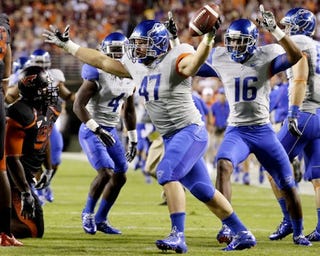 In sports, everyone is a winner-some people just win better than others. Like those media darling Broncos, who proved they belong in the National Championship discussion. Unfortunately, they won't prove it again, yet people won't be able to shut up about them.
Quite the thrilling little game last night, no? (In college football, a "great game" is defined by special teams mistakes and an inability to play defense. That's another story.) Two ranked teams, an NFL stadium, and national TV in primetime, and it's no wonder everyone's talking about Boise State this morning.
Even Simmons jumped aboard the bandwagon, only five years after the rest of America. Though the Broncos bandwagon is really just composed of the pitchforks-and-torches crowd, angrily marching on the BCS's castle. But for all that's wrong with the power conferences' hegemony, this probably isn't the year to be making the case for Boise State.
Boise State is rightly being praised for avoiding the path of most ranked teams, who schedule a bunch of cupcakes for the nonconference portion of their schedule. No. 10 Viriginia Tech, right off the bat! But the cynic in me sees it as the perfect marketing strategy to stay in the conversation come Bowl season. Beat a good team early (and the Hokies are a good team, although let's not forget, Boise State was favored), and you're in the public consciousness until you lose. And the Broncos won't lose.
What's left? A bunch of cupcakes. The Boise State defenders were quick to mention two schools when I brought this up last night: Oregon State, who, after they slog through their typically tough Pac-10 schedule, should finish the season well outside the top 25. And Hawaii, who will put up 40 on Boise State, even while the Broncos score 60. Both of those on the Smurf Turf, by the way.
No, Boise State will run the table, finish 12-0, and through attrition, be at or near the top of the polls by season's end. (The coaches' and writers' polls, that is; the BCS computers actually pay attention to strength of schedule.) Maybe the Broncos will finally be in the title game this year. But we'll never know if they deserve it, since their toughest test was a Hokie team that's never beaten a top-5 school away from Lane Stadium.
Once again, I'm taking nothing away from last night's win, in which they looked like world-beaters for a whole quarter. But every other team that goes unbeaten, and is a part of the discussion for the national championship game, is going to have to win some games a heck of a lot tougher than anything Boise State will face.