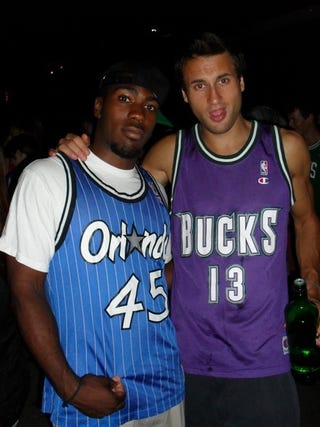 An occasional feature in which we spotlight the ridiculous trend of recontextualized basketball jerseys. Today: Bo Outlaw and Glenn Robinson.
Players: Bo Outlaw, Glenn Robinson
Teams: Orlando Magic, Milwaukee Bucks
Ubiquity: Extremely low, extremely high by comparison
Scene: A party at a semi-secret "club" at Harvard.
Unnecessarily Decimaled Score Out Of 10: 9.2 (cumulative, not an average)
Analysis: This picture takes place 1.) at a Harvard party, B.) at a secret Harvard club party, and iii.) has a the lesser hoopster wearing the more ridiculous jersey. Is "Bo" doing "The Circle Game" to the camera? Sending some coded signal? Merely adroitly popping his jersey? So many unanswered questions here. And "The Big Dog": Just wow. Harvard: paragon of education—supposedly—and changing the way that we look at hoopsters.
Verdict: Fuckin' hoopsters but could be much more aggravating.
H/T MasonVerger