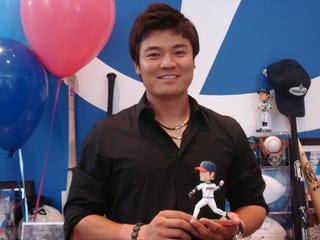 Think most athletes have a lot of pressure, with glory and shoe deals in the balance? Try being Shin-Soo Choo, who can avoid two years in the military if he leads South Korea to gold at the Asian Games.
All South Korean men must serve a mandatory stint in the military before they turn 31. The 28-year-old Choo has been putting it off, trying to find a way around it. Enter November's Asian Games, or as it's officially, amusingly called, the Asiad.
It's standard for gold medal-winning players in international competitions to receive an exemption from their military service. Choo's missed the boat before, being too young for the champion 1998 and 2002 teams at the Asian Games, and being excluded from the 2008 team that won the gold at the Olympics.
The Japanese are sending an amateur team to this year's games, because, bitch please, they dominate the WBC, you think they care about a little Asiad? So it'll likely come down to Taiwan and South Korea, with two years of Choo's life on the line.
Choo places hopes on Asian Games [MLB.com]