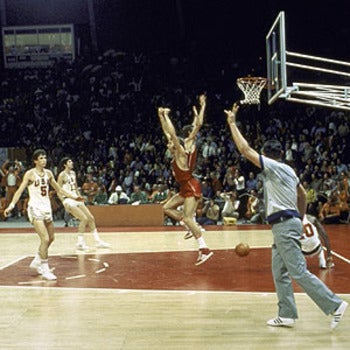 In sports, everyone is a winner-some people just win better than others. Like the revival of Soviet-American tensions, exacerbated by a little trash talking from Coach K at the FIBA World Championships. Duck and cover, kids
In advance of what's shaping up to be a not particularly competitive quarterfinal match between Russia and the USA, some enterprising journalist asked Russia coach David Blatt what he thought about the controversial 1972 Olympic gold medal game, in which the USSR beat America on the third try. Blatt reported that, as a teenager in Massachusetts at the time, he cried after the game. But having recently watched a documentary on it, he's changed his mind and thinks the Soviets won legitimately.
A measured answer. You can't expect the coach of the Russian team to say he thinks their greatest basketball triumph was a sham. And that's not getting into the fact that any irregularities in the ending came from the scorers' confusion, rather than some Eastern Bloc conspiracy.
So some enterprising journalist, perhaps the same one, scurried to Krzyzewski to tell him Blatt's comments. Coach K, unsurprisingly, didn't see it the same way. Of Polish stock (no friends of the Russians they) and stationed in Korea for that fateful game, he took issue with anyone, let alone a US native, saying anything less than the Americans got screwed out of their golden birthright.
He's Russian," Krzyzewski told reporters. "He coaches the Russian team. So he probably has that viewpoint. His eyes are clearer now because there are no tears in them."
Mind you, Blatt's not actually Russian (he holds dual US/Israeli citizenship).
I think Mike's overlooked the fact that I'm every bit as much of an American as him," Blatt told Yahoo! Sports at his team's hotel. "In America, we're taught that freedom of speech and freedom of thought allow us to try and view things objectively, form our own opinions and express them. The ability to do that without risking it being called an act of unpatriotism may be lost upon him."
Burn! Mike, you going to let that commie tell you about the First Amendment? Are you going to let Boris over there push you around at a tournament in a country that, I'm sure we needn't remind you, was one of the Central Powers in WWI? Are you going to let those Bolsheviks have a 7-inch height advantage at center and power forward?
Well yeah, maybe that last one. But it really shouldn't matter. The Americans should win handily today, and do so with a minimum of trash talking and international incident provoking. And if not, if things go horrible wrong and we're launched back into the throes of mutually assured destruction? Well, we kind of figured that if there were to be a nuclear holocaust, it'd be at the hands of a Dukie.