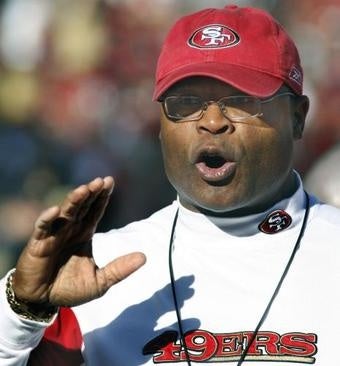 Every morning, the fine folks at Sports Radio Interviews sift through the a.m. drive-time chatter to bring you the best interviews with coaches, players, and personalities across the sports landscape. Today: trow dropper and 49ers coach Mike Singletary.
Singletary joined Murph and Mac on KNBR in San Francisco to discuss what he would like to change about himself, quarterback Alex Smith's development as the team's leader, distractions from recent moves like adding Troy Smith, his strategy for resting players late in the preseason and studying USC game tape to prepare for the Seattle Seahawks.
On if he will do anything different this season:
"I wish I could change sometimes. But, unfortunately, I think I'm just going to stay the same old guy. Just little changes. Consistency is what we are strive for around here. I'm just going to hold to that."
On the development of quarterback Alex Smith:
"The best thing about Alex Smith, you ask me where he is at, I think everybody has had a chance to see him and made their own opinions about where he is at. I think going forward, he's going to show you. From this point on, I'm going to let him do all the talking with the way he plays. It's really important for everybody that still has the questions about, 'Where's Alex? Can he do it?' You know what? It starts this Sunday. You had a chance to see him in preseason. I thought he did a pretty decent job, a pretty good job. There were some impressive things that I saw in the preseason. I thought he got increasingly better. Starting this Sunday, I will let him, by his play, tell you where he is at."
On new wrinkles in the offense:
"I just think that Jimmy Raye (offensive coordinator) and his staff has done a tremendous job of moving the offense along. This weekend, as far as new wrinkles, we are going to play our offense. You may see something a little different here or there. For the most part though, that's who we are. And we're going to continue to do that."
On if he thinks that cutting Nate Davis and adding Troy Smith will take focus away from opener at Seattle:
"You know what? If that were to be something that takes the focus of Seattle, I think that would be sad. It's not something that I am going to spend a lot of time talking about. It's something that I felt needed to be done. We felt, as an organization, it needed to be done. But we're not going to dwell on that. We're not going to let it become a distraction for one minute."
On resting players in the last couple of weeks before the season starts:
"I don't think our guys are thinking about rust at all. Rust is the last thing they would think about. At this level, you have to work when it is time to work. And at the same time, there is a lot of mental reps that you have to get in as well. I think that our guys behaved in terms of work. Now it's just a matter of us making sure that we know exactly what we are doing so we play fast."
And on studying USC gametape to prepare for Seattle:
"Well you just never know. It's always better to over do it than under do it."
This post, written by Paul Bessire, appears courtesy of Sports Radio Interviews. For the complete highlights of the interview, as well as audio, click here.