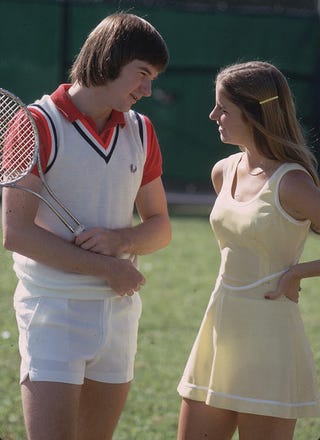 As keeper of Sports Illustrated's indispensable Vault, Andy Gray spends a lot of his time sifting through the sports photography of another time, when athletes wore short shorts and facial hair, and everyone looked vaguely uncomfortable. Here is one such photo.
As another U.S. Open draws to a close, we look back to the 1970s, when Jimmy Connors and Chris Evert ruled the game and, for a time, each other's hearts. America's infatuation with the couple started in 1974, when the 21-year-old Connors and the 19-year-old Evert both won Wimbledon and announced their engagement for the following November. The marriage never happened; the two called it off nearly at the altar. Four years later, they arrived in Flushing, the first year the U.S. Open was held at its new facility, and quickly battered their way through the draw. SI's Frank Deford discusses the evolving relationship between the two stars in this August 1978 piece:
Only Evert appears to be in a position to exert a major influence on Connors. She fills all the necessary criteria. She is female, which he prefers—"I'd rather be friends with a woman than a man any day"—and she is enduring. All of the Connors family intimates must stand the test of time. Besides, it is obvious by now that Chrissie and Jimmy can't get each other out of their systems. That doesn't necessarily mean that they will marry someday. It just means they can't get each other out of their systems.

In fact, what has emerged from a teenage infatuation is a tender, understanding adult affection. "We fell in love when we were so young," says Chris, "before we were friends. Jimmy has always worked harder on the court than anyone, but he's always been completely pampered off. His mom thinks he deserved it that way. So you must be very attentive to Jimmy. And I don't want to sound harsh, please, because much of this also applies to me, to athletes in general. So when we were together, each of us was thinking about ourselves. It's very tough for Jimmy to give on those occasions, because he gives so much on the court, and you come to expect it off. And then, of course, most of the time you do get it off the court. Imagine us, two kids, so young, in love for the first time, each expecting the other to give." She shakes her head.