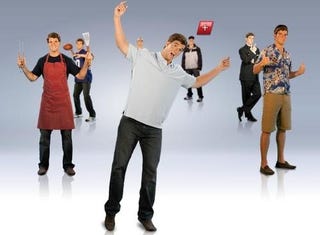 Wanna know a great way to spend a hungover Friday? How about side-by-side with Eli Manning! "All you need is an image of yourself and a few minutes," says this day-making Toyota website. (A-Rod is all "mm-hmm.") Let's play!
Reader Ian sends along news of Eli & I, a photo generator whose artistic brilliance makes Go Elf Yourself look like a toddler's fingerpainting.
"Step 1," prompts Toyota. "Choose your Eli."
I ... I can't! I want every single one! And oh god, now the "My Buddy" jingle is playing in an endless loop in my head.
In one picture he dons a tuxedo and a finger-shooter, and in another he is wearing ski goggles. The Hawaiian-shirted Eli is so authentic that he glows with what appears to be a spray-on tan. The majority of the Elis like wacky hand signals and love loafers. (I'm a little upset that they don't have a special "antiquing with mama" Elivatar, but it's possible that the Toyota shirt and the howdy-doody wave help him blend in with the crowd and better negotiate for that divine velvet ottoman.)
So let's leave it up to you, readers. Send us your wildest visions, your sweetest (b)romances, your dopiest duos. You can run the lazy route and slap together the usual memes, sure. But I think here we should reach for the stars. Who is Eli, really? What are his dreams? Who are his pals? What lies behind those glazed-over eyes?
The best entries will be those who take time to consider the masterpiece's composition while remaining sensitive to the unique majesty of New York's most tender young fawn. Here's my own sad sack attempt, in which I pair Eli with a kindred spirit who is, one might argue, equally misunderstood. I hope the quiet devastation shines through.
I'm bad at this. But you all are not. Do it for me. Do it for yourselves. But most of all, do it for Eli.
Eli & I [Toyota Presents]