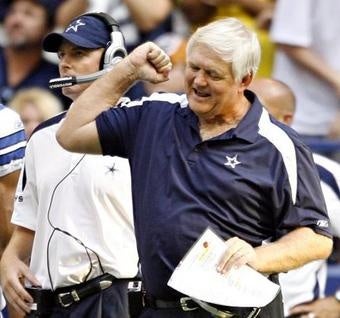 Every morning, the fine folks at Sports Radio Interviews sift through the a.m. drive-time chatter to bring you the best interviews with coaches, players, and personalities across the sports landscape. Today: Cowboys coach Wade Phillips and bag of bones.
Phillips joined KRLD in Dallas to talk about his impressive weight loss story this offseason, how he did it (thanks Diet Dr. Pepper!), the challenges of having an extended training camp and an extra preseason game this year, and just how difficult it is making the final set of roster cuts each summer.

On how much weight he's lost this offseason:
"I actually lost about 40 pounds. I was a little too heavy obviously, but I think it's about 40 pounds."
On how he was able to successfully shed so many pounds:
"Well, Diet Dr. Pepper, you know? I used to drink a lot of Cokes and stuff, and when I went to Diet Dr. Pepper, that helps some. Obviously working out, and I actually did NutriSystem some. So a combination of things."
On what the hardest part of this year's offseason has been for the Cowboys:
"I think just having the longer training camp and having more games in the preseason. It stretches it out longer than teams normally go, and our team normally goes. So we had a longer training camp, and I think that's part of the challenge."
On how hard it is make the final roster cuts, knowing he has to make professional decisions about young men he's worked so closely with:
"It's hard to separate the two things. You realize how hard guys work, and how much it means to them, and then you tell them, 'hey you don't have a job because of ability more than the person themselves'. I mean, some guys you really, really like, and some guys you've had for awhile that you care about on a personal level. I mean, I think that's part of coaching – you care about the guys who are playing for you, and playing so hard, and working so hard. So yeah, it's not an easy thing."
This post, written by Bunk, appears courtesy of Sports Radio Interviews. For the complete highlights of the interview, as well as audio, click here.
More From Sports Radio Interviews