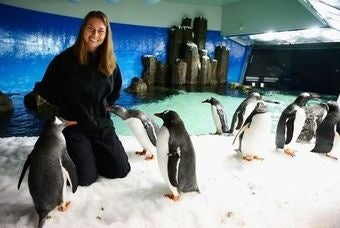 Because no one reads the newspaper, and SportsCenter's anchors are too perky for this early in the morning, Deadspin combs the best of the broadsheets and internets to bring you everything you need to know to start your day.
• Best part about today's U.S. Open womens final? The last Kim Clijsters vs.Vera Zvonareva showdown forced British riot teams to work overtime. Attica! [Metro.co.uk]
• Tennessee basketball coach Bruce Pearl is a liar. He'll tear your heart out. He'll burn your soul [The Tennessean].
Tennessee men's basketball coach Bruce Pearl provided false and misleading information to the NCAA when questioned about potential violations involving improper phone contact with recruits during a 17-month investigation.
Pearl provided the incorrect information to the NCAA during questioning that took place at the end of June. But Pearl said his conscience got the best of him, and he informed Hamilton "within a matter of days" that some of the information he provided was incorrect.
• They are Marshall. Tron Martinez is a few yards better than Earnest Byner [WVGazette.com].
Worse for the home team and its fans, they will have to live with the knowledge that their team was 6 yards away from taking a 28-6 lead with less than nine minutes left. That's when Tron Martinez, the true freshman serving as the Herd's third back, fumbled the ball away on a third-and-2 carry.
Jorge Wright forced the fumble and Sidney Glover recovered on the WVU 4-yard line. Smith hit Jock Sanders for a 26-yard gain on the next play, and the comeback was underway.
• David Beckham's back in the Galaxy fold, could play tonight [New York Times].
• In Boston, tracing the roots of Tom Brady's Audi with Jersey plates requires a two-reporter commitment [Boston Globe]. In Boston, surviving a fender bender is considered a "miracle" [ESPN.com].
• Oh cool, Pat Riley's keeping a list of haters! Otis Smith better watch his fucking back [Orlando Sentinel].
• Oh cool, Roy Williams (and not Dez Bryant) is also keeping a list of haters! Michael Irvin better watch his fucking back [Dallas Morning News].
• Here's a Vancouver hockey-prospect story! For those of you into that type of thing. [The Province]
• Cowboys kicker David Buehler wishes he had a pencil-thin face-mask. Who cares. All kickers are ladyboys. And I'd say it to their pretty lil faces. [FoxSportsSouthwest]
• Bad Ass Billy Gunn fucking hates his side piece. And Jews. And fuck-up chicks fucking his ass. Whooo! [RadarOnline].
Pinky has posted 29 videos in total on YouTube, and insists she has no plans to take them down.
Neither Badd Ass or his wife returned repeated phone calls from RadarOnline.com seeking comment.
• And, finally, from the "Hickey's Biased" coverage files … Villanova is so scared of the Fighting Blue Hens that they'd join the Big East to hide [Philadelphia Daily News]. W: Zambrano, 9Ks [ESPN]. W: Halladay (18-10) [ESPN]. Notre Dame 31, Michigan 30 [Hickey's Delusions]
****
It's Saturday. Otis makes it easier to bear.