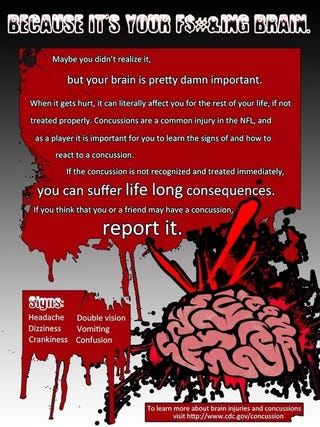 Our friends at 12 Angry Mascots have announced a winner in their contest to redesign the NFL's concussion awareness poster. This is the best; honorable mentions inside.
Allison Oliphant is the winner, thanks to splattery graphics, eye-catching text, and to-the-point information.
Justin Aguilar
We at Deadspin HQ actually like this one the best. Gets the point across without having to read more than the word "concussion."
Travis McCarroll
Repackages the original's information via sidebars and infographics.
Topher Edwards
More eye-catching than the original, but still a bit wordy.
Will Patterson
Love it. Only problem is some NFLers would take away "I can only get concussed if my helmet shatters."
Bryant Look
Colorful! Clipart! Perfect for the 8th grade reading level of the average pro athlete.
Austin Dixon
Like this one a lot. The "brain in a helmet" motif seems to be the way to go.
Janet Freysoldt
Easy to digest, but somewhat text-heavy.
Dale Diemert
Contrasting colors grab one's attention, but still too much actual reading.
Rob Daniels
A bit science-y for the average player.
Jamie SappLove it for the juxtaposition of Roethlisberger and "retardation."
Derek Mead
There's a reason they didn't let us pick the winner.