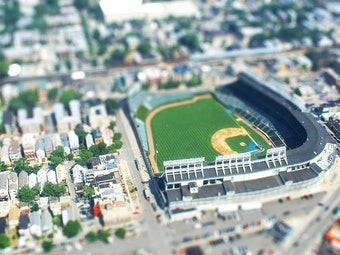 A Lebanese man was arrested early Sunday and has been charged with one count each of attempted use of a weapon of mass destruction and attempted use of an explosive device after allegedly trying to blow up Wrigley Field. Typical Cardinals fan.
Sami Samir Hassoun had been the subject of a months-long investigation and had worked with an FBI informant as well as an undercover agent. (The FBI says the plot wasn't connected to any domestic or foreign terror groups.) After going through a list of Chicago landmarks to poison, blow up, or assassinate (Lake Michigan, The Building Formerly Known As The Sears Tower, and Mayor Daley, respectively), Hassoun decided on the Wrigleyville area because of its high concentration of pedestrians on weekend nights and because, well, who wouldn't?
However, the explosives he thought he was using had been supplied by the undercover agent and were about as deadly as a toy gun with a "Bang!" flag:
On Saturday night, Hassoun met with the agent, at which time Hassoun was given a backpack containing what he thought was a high-powered explosive device. The agent showed Hassoun the bomb's components and instructed him on how it worked, the release stated. Although the "bomb" was intended to look real, it was made of inert materials and unable to explode.
So, for all those destruction fetishists scoring at home, your Sum Of All Fears moment will have to come another day.
H/T Tim; Photo via
Man Charged in Wrigleyville Bomb Plot: FBI [NBC Chicago]