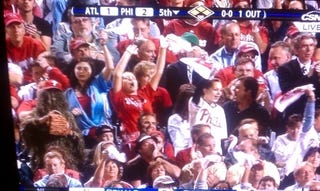 Because no one reads the newspaper, and SportsCenter's anchors are too perky for this early in the morning, Deadspin combs the best of the broadsheets and internets to bring you everything you need to know to start your day.
• The Saints won a rather sloppy/rather exciting game, proving Frank Gore wrong. Meanwhile, Reggie Bush apparently decided to give up his fibula, too.
• A Browns player is "fired up" after getting his junk grabbed by a Chiefs player Sunday. I don't get this whole "campdick" thing.
• Denver Broncos WR Kenny McKinley was found dead in his apartment after apparently committing suicide. We'll probably have more on this later.
• The Yankees extended their lead and broke ground on the Curtis Granderson Memorial Rotunda; the Reds lowered their magic number to six; the Phillies and the Twins did something or other; the Rangers are going to win that division anyway; and the NL West took a well-earned day off.
• Speaking of baseball, in light of Tyler Colvin's injury, why isn't Major League Baseball implementing the BatGlove, an adhesive wrap that prevents shattered bats from impaling its players? If you guessed "because it's the same organization that doesn't use instant replay and costs pitchers perfect games," you are correct.
• Tonight on Real Sports, Bango the Buck will be unmasked and identify himself as, you guessed it, former gymnast Kevin Vanderkolk.
• Greenman has come to the world of cross-country. Terrific, soon they'll be blending in with the flora and fauna, endlessly taunting winded high-schoolers.
Photo via reader Ryan. Is it Chewbacca? It's much funnier if it's not Chewbacca.
*****
Good morning. Twofer Tuesday is here at last.