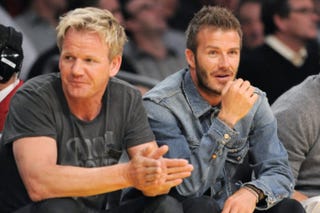 Sweary TV chef Gordon Ramsay has revealed he and bessie mate David Beckham had to cut short a recent bonding/camping trip to the outskirts of LA after waking up to a rousing chorus of *pew pew pew*
That's meant to be gunfire.
Says the man whose face has the texture of a ginger nut biscuit:
We woke up at 4.30am to gunfire. There were tents about half a mile away on the side of this ravine, with these Mexicans shooting. We don't know what, we just heard the bangs.

We packed up and checked into the Hard Rock Hotel in San Diego.
These "Mexicans" must have been wearing some f**king big sombreros to pick them out from half a mile away, eh Gordon? Cretin.
In other Beckham news, David was spotted watching eldest son Brooklyn in a kids' match in LA over the weekend, and the young man is apparently already quite handy with a football. Also, Cruz supports Chelsea.
That is all.
This post, written by Richard Gilzene, is republished with permission from The Spoiler. Go there often if you like soccer stuff.