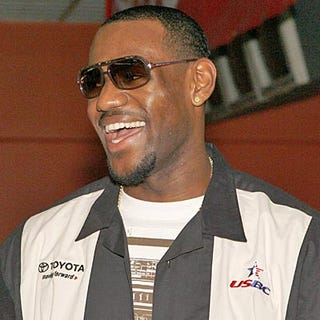 In sports, everyone is a winner-some people just win better than others. Like ESPN for being completely impartial in regards to LeBron James and then announcing they were amping up their LeBron coverage to an absurd degree.
Following a protracted silence, ESPN ombudsman Don Ohlmeyer finally opened up about the spiked Arash Markazi LeBron James story—but he also gave some out of touch thoughts on Mariotti and the equivalent of a 30 For 30 mic-drop; I don't think Don Ohlmeyer likes to work that often. In his column, Ohlmeyer talks to ESPN.com EIC Rob King who put all those conspiracy theories to bed. The decision to spike the story was not influenced by outside sources (read: LeBron's camp), the piece wasn't republished because Markazi used quotes that were off the record and because they were embarrassed about accidentally publishing it.
However, Olhmeyer then goes completely off the rails:
Since the interaction was not on the record, it became eavesdropping on James' private life, even in a public place. Reporting on something that ultimately seemed more voyeuristic than important raised pertinent internal questions. Was it fair? Balanced? Were any ethical lines crossed? Is this the kind of journalism ESPN wants to be known for? This is the type of thing we hate when others do it to us, so why would we do it to someone else?
Never mind that that is exactly the type of journalism that ESPN is known for. The WWL announced yesterday that they were planning on sending a larger than usual horde to Miami Heat Media Day next week, assigning Josh Elliott, Jalen Rose, Jon Barry, and Rachel Nichols to cover events live much like the The Decision pre-show. USA Today's Michael Hiestand says their coverage will likely dwarf anything the network did while covering Brett Favre and, as Fanhouse's Tom Ziller points out, the ESPN Traffic Chopper ran live footage when Favre touched down in Minnesota and drove to training camp. Clearly, ESPN is aiming to make LeBronukkah last the whole year.
It's sad to see the ESPN ombudsman finally speak up about a story that fell out of the ESPN controlled news cycle and say with a sliver of authority that ESPN doesn't give special treatment to LeBron the day after ESPN announced they were going to turn SportsCenter into an hour of Rachel Nichols reporting that LeBron reportedly is clowning with his teammates, tossing it to the Three J's in the booth for some banter and analysis before they toss it back to Rachel for some more ouroboric inanity. It's sad because that's what the most powerful sports news entity thinks is a good idea. It's sad that the ombudsman is so garishly out of touch. It's sad that when Chad Ford Tweets "Update: LeBron bites hangnail, link coming" we'll all click that link when it appears.
But kudos ESPN, you're on the record about being completely impartial about LeBron. You can lie through your teeth and everyone shrugs, because really, what can you do? Watch Versus? Just know that most of us fast-forward to the good parts of SportsCenter.