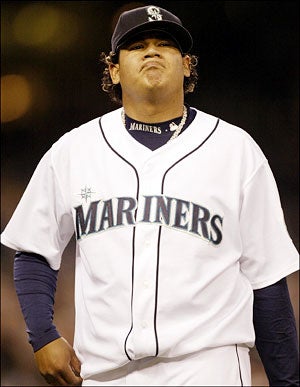 In sports, everyone is a winner—some people just win better than others. Like Felix Hernandez, who probably locked up his Cy Young last night along about the time the Rays hung their seventh run on CC Sabathia.
Ken Tremendous covered this ground the other day, but it's worth pointing out again that even at 12-12 Felix Hernandez is the American League's best pitcher by a substantial margin and by any metric except the most superficial one (wins) and that he was the American League's best pitcher even before the Rays teed off on Sabathia yesterday. Sabathia had a bad game in a big spot, and if some of the arguments for writing him off today are as specious as the ones that made him the supposed favorite until yesterday, at least it most likely means that the right guy will get the hardware. "The stats geeks will win," Rob Parker concedes idiotically, writing later:
Matched up against Rays ace left-hander David Price, Sabathia could have made it nearly impossible for the guys who value stats over wins to deny him the league's best pitcher award.
Sigh. In the Year of Our Lord 2010, Rob Parker and the rest of the wins crowd still have no idea what they're talking about. Craig Calcaterra does all the fisking here. I'll just note the fairly obvious fact that wins are statistics, too, and that if there's a dumber argument in all of sports right now, Skip Bayless hasn't gotten around to making it. This should be settled doctrine by now — remember Zack Greinke and his 16-8 record and the enlightened people who gave him the Cy Young anyway? — and as far as I can tell, the only reason we're having this "debate" for the second straight year is that a Yankee is involved and that, deprived of their precious Yanks-Red Sox pennant race and all those customary autumnal orgasms, the baseball media have to lose their minds over something.