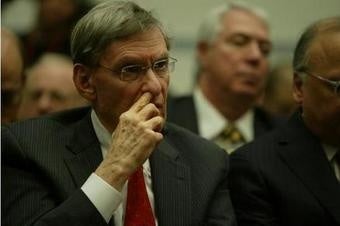 It's not like letting more teams into the MLB playoffs is a brand-new idea, but the issue resurfaced before the Cardinals/Cubs game yesterday. Here's what Commissioner Bud Selig said about it:
"We have less teams than any other sport. Eight teams make the playoffs. One wild card in each league. We certainly haven't abused anything. ... As the guy who brought the wild card and took a lot of abuse — maybe from nobody in this room — it's worked out great, nobody's against it." [CNNSI.com]
Ok, say the season ended last night, which is when it'd roughly have to if another postseason round or two were added. Type/thinking aloud, there are a couple ways this could go. If it was a one- or three-game series between two wild-card teams per division, Boston and Atlanta would now be playoff teams. Fine.
If it turned into a four-team-per-league scramble to be the lone "wild-card" representative, in addition to the already qualifying Yankees and Padres, and Red Sox and Braves, these four teams would advance:
AL: Chicago and the winner of a Toronto/Detroit tiebreaker play-in
NL: Colorado and St. Louis
Sure, it's not like a No. 8 hasn't made a deep run at the Stanley Cup, but has Toronto, Detroit and/or St. Louis proven World Series worthy? That doesn't even touch on whether it'd bring up a home-field-clinched sit-the-starters vibe a la the NFL.
Other scenarios, thoughts, ideas?