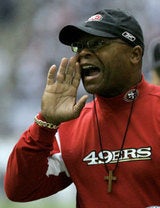 Remember that whole "Mike Singletary Doesn't Much Like Talking" post from seven days ago this very minute? Fine, refresh yourself.
Yeah, well, because of it — not the post, the interview on which it was based — KPIX's Dennis O'Donnell ain't allowed to interview the dad-gum San Francisco 49ers coach anymore.
In the wake of last week's tense interview with coach Mike Singletary, the host of the "Coach's Corner" segment on KPIX has been replaced by Kim Coyle. Coyle takes over starting with Thursday's taping.

Because the show is done as part of a contracted partnership, the 49ers have editorial input. 49ers spokesman Bob Lange said changing hosts was a "joint agreement (with KPIX) to give the interviews a better dynamic going forward."
Nice to see Singletary's is the type of over-reactionary pussy who can't handle even implied criticism. I'll bet he convinced Ditka to give a Super Bowl touchdown to the Fridge instead of Walter Payton.
49ers, KPIX agree: No more O'Donnell-Singletary interviews [Mercury News]