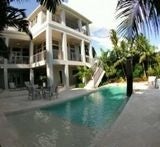 LeBron James has apparently scaled back his South Florida housing aspirations. Initially said to be ogling a $49.5 million, 11-bathroom castle, he's reportedly grabbing a $7.65 million villa in an enclave named for Howard Hughes of crazy-long fingernails fame.
The crib has three floors and, of course, an elevator, exotic wood and stone finishes, hurricane windows and a gourmet kitchen. When it comes to gadgets, it appears to be tricked out to the max with a touch-screen Creston automation system that remotely adjusts lights, temperature, drapes, televisions and radios throughout the house.
I'm told by another realtor who asked to remain anonymous that James visited at least a half dozen homes in the Coconut Grove/Coral Gables area. At times, he was with Heat great Alonzo Mourning and at others with his mother, Gloria. But there was always with a posse of five or six people trailing him. [Miami Herald]
Page2Live.com was kind enough to include the address in a photo caption. It's 3309 Devon Court, Coconut Grove. The more you know.
EXCLUSIVE: James picks modest Coconut Grove homestead [Page2Live.com]
Miami Heat's LeBron James may buy Coconut Grove home [Miami Herald]