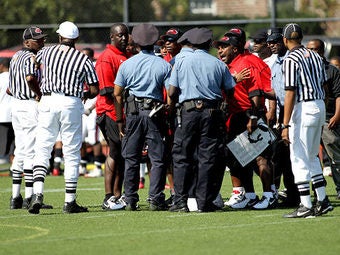 Saturday's game in Queens between Campus Magnet and Boys and Girls High School got mercy-ruled with 3:49 left in the fourth. Not because of the score, which was only 16-6. Because of assplay.
Game summary: Campus Magnet pulled ahead 14-6 and went for two. The running back got stripped of the ball at the goal line. The refs said he broke the plane. The Boys and Girls head coach fought to the point of ejection. Pushing, shoving, cursing, yelling and handcuff-wielding ensued.
Enter, the volunteer assistant coach ...
"His fellow coaches were holding him back and he turned around and pulled down his shorts. All I saw was his big \[rear end\]," said David Sumter, 40, a Campus Magnet parent. "If you're getting beat and it's a bad call, you take it in stride. You don't pull your pants down." [NY Daily News]
(H/T Barry)