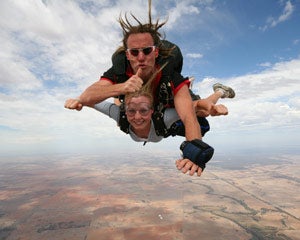 A Long Island skydive instructor was fired after a student complained that he groped her as they plummeted to earth. The instructor is suing, claiming he couldn't have grabbed a piece, because he's gay. Oh, that's convenient.
Donald Zarda was taking a woman named Rosanna out on a tandem jump this summer. That means his pelvis is strapped to her backside, an awkward position for anyone. To make things more relaxed, he told her "Don't worry, I'm gay."
Rosanna reported the remark to Zarda's boss, and also claimed he had touched her "in a way that made her uncomfortable."
Zarda was fired, and now he's filed a discrimination lawsuit.
I'm 100 percent gay," Zarda told The Post. "So, you're accusing me — the gay guy — of touching the girl inappropriately?"
On one hand, that does sound pretty ridiculous. But on the other hand, it's well-known that the homosexual agenda includes turning all of the straights gay, something apparently transmitted by boob grabs. We don't know what to believe anymore.
Now show us on the doll where they touched you, Drew.
Gay skydive teach axed for 'gal grope' [NY Post]