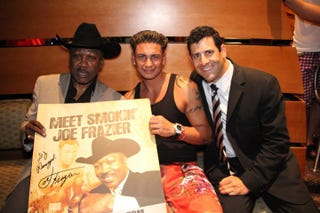 Oh, poor Smokin' Joe Frazier. You were one of the greatest heavyweights of all time. You don't deserve this.
We don't know where this picture was shot, but Vegas was taken over by Matador Records this weekend so it's pretty weird that Joe Frazier and Jersey Shore's DJ Pauly D—fresh off a tanning bed dedication—were in attendance or somewhat nearby. One could hope Thurston Moore got himself some UV rays and Stephen Malkmus punched Pauly in the face, while Smokin' Joe laid down some game on Liz Phair. Yes, one could hope.
H/T Luke
*****
Thank you for your continued support of Deadspin. Less than 19 hours until we post nothing but open threads for about a month.