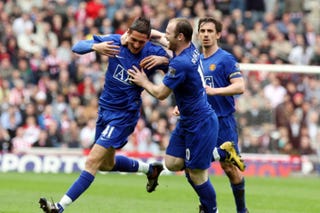 While most of us can't wait for this international break to be over, Man United's Federico Macheda will be hoping time goes really slowly while he's away with Italy's U21 squad, after making an "ill-advised" comment about his willy-swinging teammate Wayne Rooney.
Speaking to Italian paper Gazzetta dello Sport, Macheda let slip a gaffe which probably sounds much worse than intended after translation:
Rooney is a really great person, he always gives me advice, but he's a bit working class and vulgar.
Ouch…although that does accurately describe 99% of the Premier League.
This post, written by Richard Gilzene, is republished with permission from The Spoiler. Go there often if you like soccer stuff.