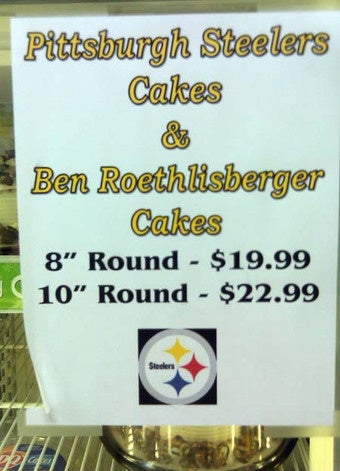 And so the Colt McCoy Era begins as Cleveland visits Pittsburgh.
What a seminal moment.
The situation is not worthy of a panic attack. McCoy will be all right. Or, as former Browns coach Sam Rutigliano quipped in passing, "Well, he's not going to Afghanistan."

The Browns (1-4) enter the game as huge underdogs, and many fans fear McCoy could be permanently damaged — physically and mentally — in a series of thrown-to-the-wolves moments.

Remember, the Browns did not desire this, either. They wanted McCoy to watch and learn from the sidelines this season. [Winnipeg Free Press]
Best of the rest? Falcons at Eagles. Chiefs at Texans. Saints at Bucs. Fins at Packers. Ravens at Pats.
Worst of the rest? Chargers at Rams. Lions at Giants. Seahawks at Bears.
Related:
Browns QB carousel counts 16 since 1999 [Pittsburgh Post-Gazette]
Why aren't kids buying these Ben Roethlisberger birthday cakes? [VH1] (H/T Dan)