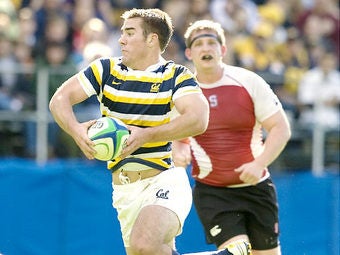 The varsity rugby team at Cal Berkeley has won 25 national championships since 1980. Little matter. The school's shuttering the program and making it a "club." Because of the school's budget. And Title IX? [Edit: Punctuation updated.]
Clark, who has directed 21 of Cal's 25 national championship teams in the sport, said there is no reason the university needed to cut rugby, saying it's largely financially self-sufficient thanks to private donations.
He said he proposed to athletic director Sandy Barbour and the university administration adding a women's varsity rugby team, which would balance gender equity issues mandated by Title IX federal law.
As with everything on earth, Cal rugby supporters have launched an online effort to "Help prevent the end of Cal Rugby as we know it" with a handy "How You Can Help Page" which notes, "the team is self funded and contributed over $300k to the general fund last year."
Here's video of the mother of a former player ...
Cal baseball, rugby refuse to go quietly after termination of their programs [Oakland Tribune]
An Open Letter to Sandy Barbour [Daily Californian]
(H/T Tim B.)