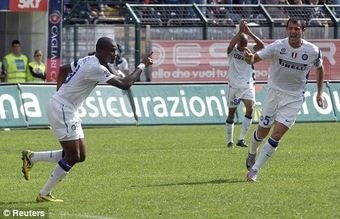 Oh look, a match in Italy between Cagliari and Inter Milan was temporarily stopped so stadium personnel could get a handle on a bunch of racist chanting aimed at Inter's Samuel Eto'o.
Three minutes had been played and the score was 0-0 when the referee approached the benches and a public announcement was made asking fans to stop the offensive songs.
The game resumed shortly afterwards and Eto'o responded by scoring the only goal to hand Inter a 1-0 win [Daily Mail].
In other Italian sporting news, "three Lazio fans were arrested before their rivals Roma played Genoa in the capital after police searches found a machete, knives and other weapons."
Lovely place, that Italy.
(H/T Tomuban)
****
Thank you for your continued support of Deadspin. As always, you were wonderful company. Can, uh, we go out, um, again next weekend?