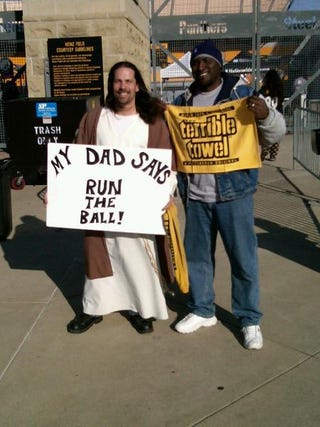 Because no one reads the newspaper, and SportsCenter's anchors are too perky for this early in the morning, Deadspin combs the best of the broadsheets and internets to bring you everything you need to know to start your day.
•What better way to shake off the rust than against the Rust Belt punchline Browns? Ben Roethlisberger threw for three scores in an easy win, and got support from Jesus, a guy whose father didn't ask his mother for permission before getting down to business.
(Photo via here, h/t Jovan J.)
•Roy Oswalt won the pitchers' duel part deux, and the Phillies knocked around the SF bullpen to even the series up at one. The Giants better hope it's a long series, because thanks to the 49ers, San Franciscans are already saying "wait 'til baseball season."
•It's not fair to say that the Vikings-Cowboys tilt was a game to keep the season alive for both teams. That would imply that Minnesota, who won, has a chance in hell.
•Jets win (thanks to Kyle Orton). Patriots win (thanks to their kickers). Dolphins win (thanks to an underachieving Packer team). Meanwhile, the Bills sit far in last. The Bills are like the Cowboys of the AFC East.
•The first BCS standings are out, and Boise St. is on the outside looking in. Beating Virginia Tech and Oregon State may fool the human voters, but you cannot fool THE MACHINE.
•••••
Weekend's over. Get back to work.