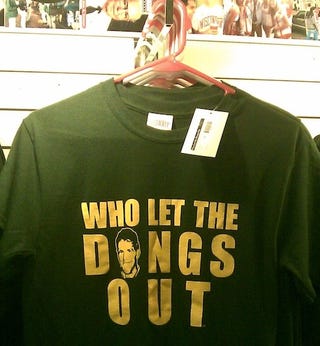 The NFL's investigation is coming to a head. Old media types are still bemoaning the death of journalism. Everybody wants a piece of athlete dong.
•Favre apparently blew off the NFL's request to interview him about the allegations last week. The league's security chief will meet with him in Minneapolis this week, and he doesn't have a choice in the matter.
•Neither Jenn Sterger nor the former massage therapists have been interviewed by the NFL. The league can't force the women to do anything against their will, but luckily there's an employee just back from a monthlong suspension who can.
•Wrangler Jeans pulled their Favre spots from the NFL slate yesterday, replacing them with Dale Earnhardt Jr.'s ads. The Favre commercials ran on "niche channels" like the History Channel, so if you're a big fan of hourlong shows about Hitler's war machine, that's where you'll find Brett Favre.
•Holy shit, you guys. David Carr of the New York Times says this story shouldn't have made the news until the NFL's investigation is complete and they find Favre guilty of something. (He also gets more than a couple facts wrong when writing about how we reported this, but you're allowed to do that when you're a Respected Media Outlet™.)
•Jimmy Johnson said that Favre should have been benched if the Vikings lost yesterday. Clearly Favre will become the Wally Pipp to Tarvaris Jackson's Lou Gehrig.
•One pundit says Favre should have learned a lesson from the media's excoriation of Tiger Woods. Whitlock, on the other hand, says he's handling this scandal perfectly.

•Howard Kurtz gets his hypocrite on, spending 1000 words bemoaning the state of journalism when legitimate outlets have to cover dirt dug up by "non-traditional media." He then announces this will be his last column for the Washington Post, as he's leaving for the Daily Beast.
•Worry not! The WaPo will still have plenty on this story that they're so far above, beginning with an op-ed in which Stephen Rodrick confesses how dirty the whole business makes him feel. Yes, yes, sports are no longer innocent Americana, we get it.
•Oh, and it's not like Howie Kurtz is so sick of this story that he didn't invite Daulerio to be his guest on Reliable Sources.