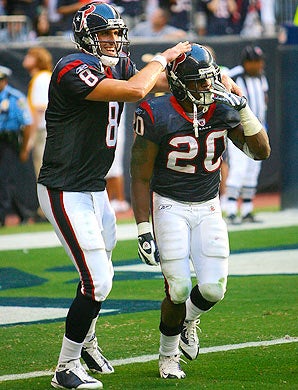 Every morning, the fine folks at Sports Radio Interviews sift through the a.m. drive-time chatter to bring you the best interviews with coaches, players, and personalities across the sports landscape. Today: Texans quarterback Matt Schaub.
Schaub joined KILT in Houston with Marc and John to discuss the game-winning pass to Andre Johnson, the significance of entering the bye week 4-2 instead of 3-3, the loss of defensive captain DeMeco Ryans, the thought process heading into a game-winning drive, the Texans' mix-up during the pregame coin toss and what ensued after that blunder.
On the game-winning pass to Andre Johnson with less than a minute left:
It was a moment for our team, with the situation and how we dug ourselves a hole but fought our way back. We just beared down and knew it was going to be a 60-minute game coming down to the last possession. We just kept fighting and kept plugging and found a way to put some drives together and win the game. That last play, a lot of guys working hard. The guys up front gave me the time to step up, find a soft spot in the pocket there off to the left and Andre uncovered back in the back of the end zone and had just enough room to put that ball in there and it was a great moment for our team.
On the significance of being 4-2:
Going into the bye at this point in the season, after six weeks, having two disappointing performances at home against Dallas and New York and having the Chiefs coming in here - a very good football team, a good defensive football team and an offense that's very efficient - to come away with that win, in the manner that we did, was just huge for our team, long-term. I think we're really going to benefit not only from this win, but from the Washington win and the other ones as well, but just in the fashion that we did, going into the bye and having that momentum going into the bye … it's just huge for our team to be 4-2.
On the thought process heading into a game-winning drive:
At the time, we're thinking we need to work our way down there and at least get ourselves in field goal range, to where we can tie the game up, at the very least. We had the complete confidence, no doubt, that we were going to be able to get that done. And then once we got down there, depending on how much time we had and where we were, then we can take our shots at the end zone. For me, it was just to get completions. … It was just put a couple completions together and start the drive off, get a first down or two and start from there.
This post, written by Eric Schmoldt , appears courtesy of Sports Radio Interviews. For the complete highlights of the interview, as well as audio, click here.
More From Sports Radio Interviews
• Ed Burns Is Making A Movie About Sports Radio
• Jeff Fisher Will Brush Away Your Criticism Like So Many Crumbs In His Mustache
• Deion Branch Is Alive And Playing Football Like It's 2003.